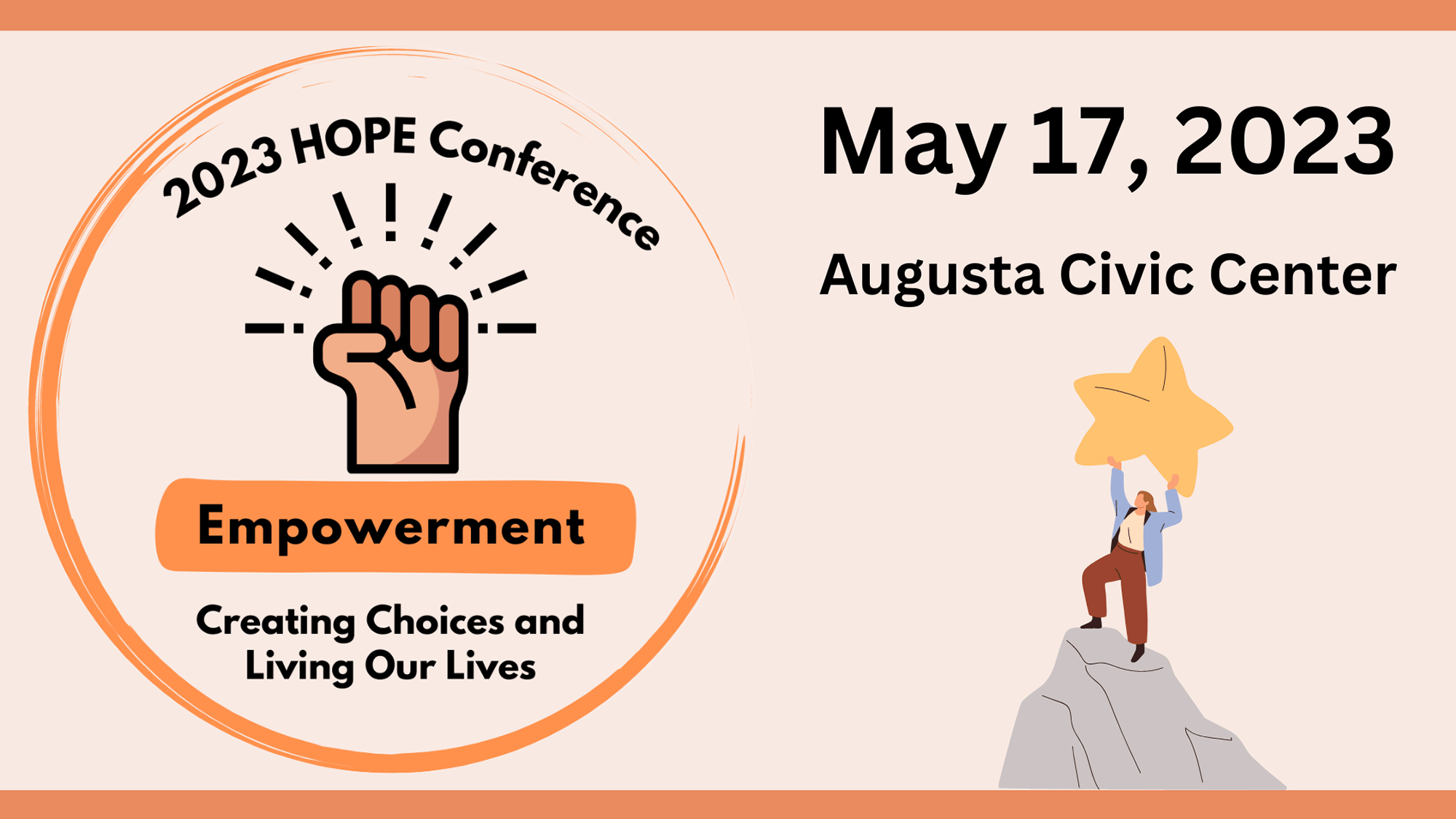 2023 Hope Conference
Empowerment – Creating Choices and Living Our Lives
Wednesday, May 17, 2023, 8:00-4:00, Augusta Civic Center
---
KEYNOTE PRESENTATIONS
Reframing Resistance – Dana Foglesong
Resistance is often viewed as negative despite resistance birthing the most important movements in history. Through the lens of resistance, Dana Foglesong will share her journey in the mental health system that started in shackles and led to despair and disability and her experience with peer support that led to her present-day leadership in systems she once was served by. The address will explore resistance as a framework for empowerment and wellbeing and as a necessity for the growth and sustainment of recovery-oriented services.
Easing the Symptoms of Terminal Uniqueness – Ian Harvie
We are all individuals, with unique experiences, how we process moments in our lives is like no other's process. No one knows what we each of us as human beings have been through, from our struggles to our delights. You are special, one-of-a-kind, wonderful, just like that dear loved one told you are when you were a wee child. You are made of stardust and there is no one else like you in the universe. This is important language to routinely use when learning to limit or remove harmful comparison thinking in recovery life. However, during challenging times, this same type of individualist thinking can easily morph from positive intention into a negative thought, i.e., "No one understands me" or "I am the only one who has ever felt this way". This pattern has the capacity to create blocks in your recovery, or in its extreme form, has potential to take you out of recovery entirely. In this interactive discussion, Ian will pitch the mindfulness practice of seeking characteristics and experiences in other human's stories to align ourselves with. In turn, helping ease the symptom of terminal uniqueness and possibly other symptoms of illness, like, misconceptions, misperceptions, loneliness, despair, and avoidance.
ABOUT THE KEYNOTES
Dana Foglesong, MSW, NCPS, CRPS has held national leadership positions in the private and nonprofit sectors and within state government. In these roles, she utilizes her professional experience and lived/living experience of recovery to transform policy and practice, deliver data-driven innovation, and work for the meaningful inclusion of people served and their families in the design, delivery, and evaluation of systems and services. Dana has received peer support, has been a certified peer specialist for 13 years, and has supervised peer specialists. For the last four years Dana has been in leadership at the National Association of Peer Supporters where her work has shaped policy and practice including leading the group that developed the National Practice Guidelines for Peer Support Supervisors and the proposed standard occupational classification definition for peer support specialists. She is a native Southwest Floridian and loves her pup Finn, tacos, and exploring local and international natural wonders.
Ian Harvie is a standup comedian, writer, actor, and public speaker, who has been in recovery for 30 years. Originally from Portland, Maine, Ian has lived in Los Angeles, CA for the last 17 years with his partner Sarah. Harvie is the recipient of the Equality Maine Pioneer Award, he is a mentor to LGBTQ youth, and former board member of the Los Angeles LGBTQ Center. Ian and Sarah are regular weekend volunteers at Skydog Sanctuary for wild mustangs and donkeys and Pug Nation Rescue in Los Angeles.
Additional information
Contact Hours –You may collect your certificate of attendance as you depart.
Lodging for one night is available to peers/consumers who travel more than 130 miles one way within the state of Maine to attend. Please contact Simonne Maline – [email protected] for information.
Mileage is reimbursed for peers/consumers using their own vehicle to travel 150 miles round trip within the state of Maine and who are not receiving reimbursement from another organization. Mileage reimbursement forms will be available at the conference. Participants receiving mileage reimbursement are not eligible for the gas card raffle.
Carpooling is recommended for organizations. Participants who are traveling less than 150 miles round trip to the conference will be eligible to enter a raffle for a $25 gas card.
Food – A menu that is shellfish-free, peanut and tree nut-free, and mushroom-free, and offers gluten-free and vegan options will be provided.
Special Accommodations – We will do our best to respond to reasonable requests. Please contact Simonne Maline [email protected] or by phone 207-430-8300 by April 19, 2023 with any accommodation requests. For language interpretation services, please contact Simonne as soon as possible and let us know which workshops you plan to attend.
Book Table – Kelly's Books To-Go will be available. Checks, Visa, MC or Discover are accepted.
To register by fax and pay at the door, please print and complete the Registration form and fax to 207-878-6172. If registering by fax, you will be responsible for paying the registration fee at the door. There is no registration by mail for this event. For registration questions, contact [email protected] | 207-878-6170
Cancellation Policy – There will be no refunds provided for cancelled registrations. If you need to cancel your registration, please contact [email protected] | 207-878-6170
This conference is presented by the Consumer Council System of Maine.
Link to view workshop descriptions: https://ccsme.org/hope-2023-workshop-descriptions/